Itsy-bitsy ditties
Ruby sits down and serves up the tea
She pours one cup, then two and then three
Yes, that's Ruby, she likes to pretend
A toast to the host with the most
And what counts in the end
Some very good friends
No, this isn't the latest release from John Hiatt and it's not a paean to a babe, though it works that way, too. It's a song about a little girl at her own tea party and it's part of an expanding repertoire of tunes that has mothers from Avenue A to Central Park West vying for space for their kids in a Music for Aardvarks and Other Mammals class.
And oh, record labels are competing for rights, too.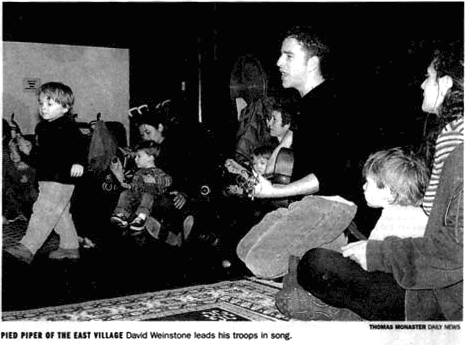 The songs in the Aardvark program, created by rocker David Weinstone, are about subways, elevators, taxis, fights, playdates and other realities of a city kid's life - and they're blowing Old MacDonald off the stage.
"I see no reason why we introduce young kids to syrupy gobbledegook nonsense in our culture," Weinstone says. "We don't do that with any of the other arts."
Aardvark came about almost by accident after Weinstone, who by night fronts the band Mozart's Grave, checked out a toddler music program for his son. He found that "Kumbaya" was the high point: "The music really sucked."
So the classically trained composer began writing his own songs for his son, Ezra; soon friends brought their kids over. Word got out, soon Weinstone was holding class in the basement of a lower East Side restaurant, where, he said, "the kids would be jamming with timbale players," banging percussion instruments and singing raucous anthems like:
Beep beep, honk honk, can you spare a dime?
Have a bagel with a schmear
And we'll see the Guggenheim
From the Bronx to the Battery, it's all mine!
Like great children's book and films, the tunes seem to work for both urban grownups and children, as in "Taxi": "Roll the window up, roll the window down/ Sure beats walkin' crosstown!"
There are flights of fancy, as in a ditty about an oak that longs to uproot and dance. And there are some universals, like this turbocharged:
Oh! Little bitty baby all wrinkled and new!
Not much a little bitty baby can do
But that's okay, I'm gonna show you how!
'Cause I'm your big brother now!
Friends gave copies of Weinstone's tapes to friends. Within months, Aardvark exploded. "There was a line of people waiting to get in," Weinstone says. "We went from 6 to 140 students, with a waiting list."
And business keeps on growing. More than 50 classes (12 students per class) a week are offered in Cobble Hill, Williamsburg, Carroll Gardens, Park Slope, Brooklyn Heights and Chelsea, in addition to Weinstone's original location on Lafayette St., where he still leads the singing.
Record companies are drooling to publish his collection of 120 original cuts. But Weinstone - the son of two artists who has a McCartneyesque gift for melody and whose inner child is very much outie - is keeping them at bay. He sells tapes of his music, but "what I really want to do," he says, "is give the program to the public school system." Somebody call him quick before he changes his mind. u
(For information about Music for Aardvarks and Other Mammals classes, call 718-858-1741.)